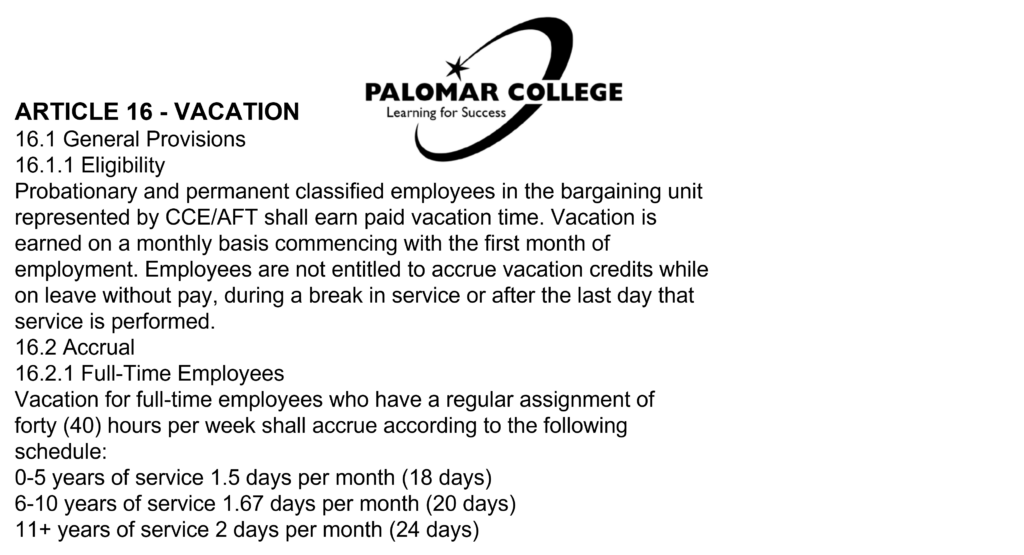 What we like: Palomar has the best starting vacation for classified employees in the state at 18 days. It is also allows members to earn 20 days of vacation by their 6th year of service, which is above average. There are colleges with higher maximum vacation days than Palomar at 24 days, still, 24 is slightly above average.
What we don't like: Palomar has a maximum vacation storage cap of two years accumulation (not shown). While not uncommon to have vacation banking caps, this article would be better without one.
---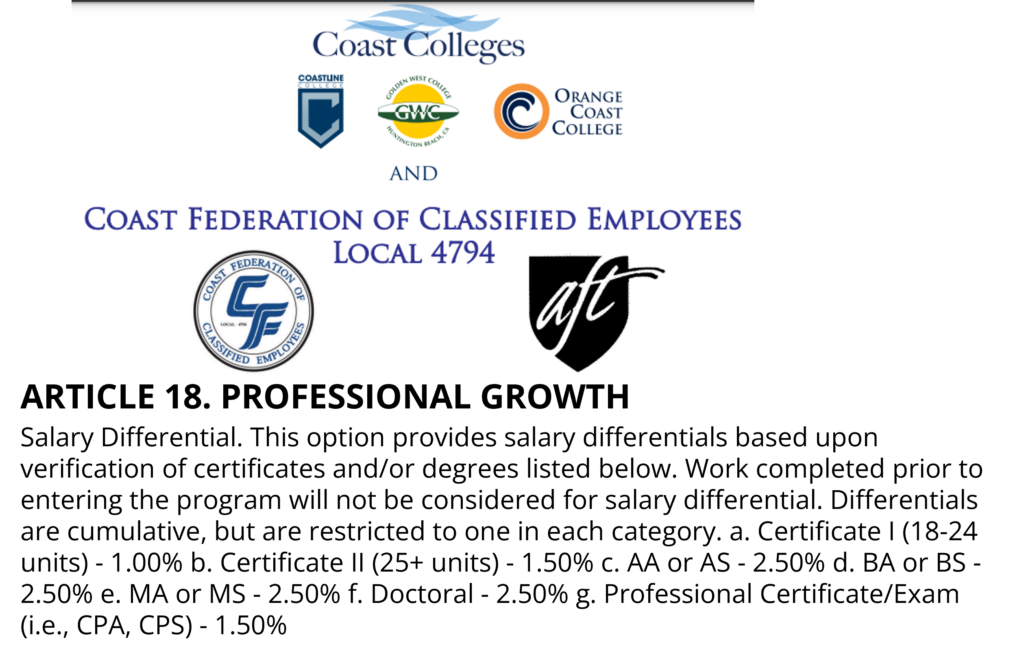 What We Like: The Coast Colleges have one of the more flexible professional growth articles in their CBA. We particularly liked how employees have the option to receive a salary differential as a percentage increase. Moreover, they offer salary differentials for Certificates (up to two), Associates, Bachelors, Masters, and Doctorate degrees, while other colleges might only offer a salary increase for a Masters or Doctorate (if any). There are other colleges (e.g. College of the Sequoias) that also have salary differentials for Associates and higher degrees, but offer these as "lump sums" instead of percentage increases. Given the choice, and assuming an approximately similar starting value, a percentage-based increase is preferable, because it's tied to the base salary (typically goes up with COLA, steps, and other salary increases over time). Lump sums (while still better than nothing), need to be renegotiated regularly to make sure they are "inflation-proof" incentives. And, since higher education has historically outpaced general inflation, this is particular important. For example, if your college offered a $2000 lump sum for earning a higher education degree, and that CBA language was established in the year 2000, it would take $3,461.21 to be worth the same value in (2023) dollars today. (Honorable mention: Santa Monica CCD also has a percentage-based degrees, but at lower percentages for the certificates etc.).
What We Don't Like: This is one of the best professional growth articles out there for those with earned college degrees or certificates of any level. Ideally, a professional growth article would include salary differentials for serving on collegial consultation committees – after all, these internal experiences are often as good of a professional growth experience as formal coursework or conferences. and are often time-consuming work for Classified employees outside of their normal job duties.
---