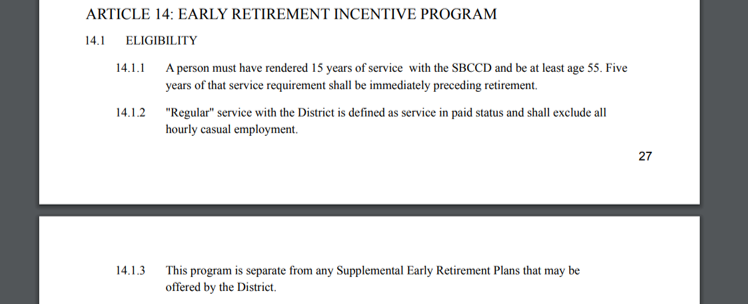 What we like: There are admittedly few Administrator Collective Bargaining Agreements amongst the California Community Colleges. In this regard, each CBA is special and worth a read in its own right. Santa Barbara Community College District is a particularly strong example of an Administrator CBA that provides enhanced rights for its members beyond the more commonplace "Administrator Handbooks" seen elsewhere. One example is Article 14, which provides for an ongoing retirement incentive program outside of the supplementary early retirement program (SERP).
What we don't like: Article 14 could clarify the specific percentage or lump sum offered for this program. It is unclear how much is offered, and it takes 15 years of service with SBCCD to qualify. As hiring for top administrators becomes increasing competitive in 2023, the Union and District should consider lowering this threshold to attract more candidates from outside of SBCCD.
The full SBCCD CBA can be found here
---

What we like: The Southwestern CBA creates a clear pathway for tenured faculty to transition into administrative roles while maintaining their tenure. The CBA also offers a strong 26 days of vacation for all members, without a tiered waiting period to earn this maximum. The CBA provides employee protections through a robust grievance process and through a clear disciplinary process. It offers its members the additional benefits of educational incentives along with fee waivers for any in-District courses.
What we don't like: The CBA states that "Pursuant to the provision of Section 88029 of the Education Code, the Governing Board has designated the positions on the Academic and Classified Administrator Salary Schedule as exempt and excluded from the laws and regulations pertaining to overtime." However, it would be helpful to include language stipulating that any administrator who works on a holiday shall be compensated in addition to their normal salary (as discussed in 88029). The CBA also states that "Administrators are assigned a normal workweek of forty (40) hours, and a normal workday of eight (8) hours. The workdays and hours of each administrator will be established annually, and may be modified upon approval of the immediate supervisor." What is unclear is what happens when an administrator who is exempt from overtime is called back to services beyond their assigned scheduled.
The full Southwestern CBA can found here